new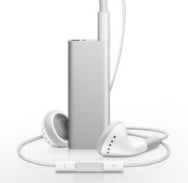 old
Its smaller, bigger and so much cooler, this is why I love to hate Apple.
No buttons, voice command, and a headphones set that means you always have to use Apple headphones, clever techies.
Sure it'll annoy some people, but not me, this brings a whole new way of looking at minimalism in the 21st Century. I don't really need to buy another iPod but if I had any money, it would be a hard thing to resist!
For more info and a tutorial click
here